A brief bout of hard luck that followed Sandy Blair's service in the Air Force had a silver lining — it formed the groundwork for her nonprofit, Operation WEBS.
Blair's nonprofit provides housing for homeless women veterans, including tiny homes. Its formation was years in the making and a result of Blair's struggle following an unanticipated medically-related discharge from the Air Force.
Although Blair said she sometimes believes her struggle was minuscule compared to what other veterans experience coming home from war, it gave her the insight to see what she believes is a common problem for many re-entering the civilian world.
Born in Kingston, Jamaica, Blair immigrated to New Jersey with her family in the 1980s. After graduating from high school in 1992, Blair enlisted in the Air Force out of Philadelphia. She wanted to be an F-16 jet mechanic and had the intention of making it a career. "I felt like it was my calling," she said.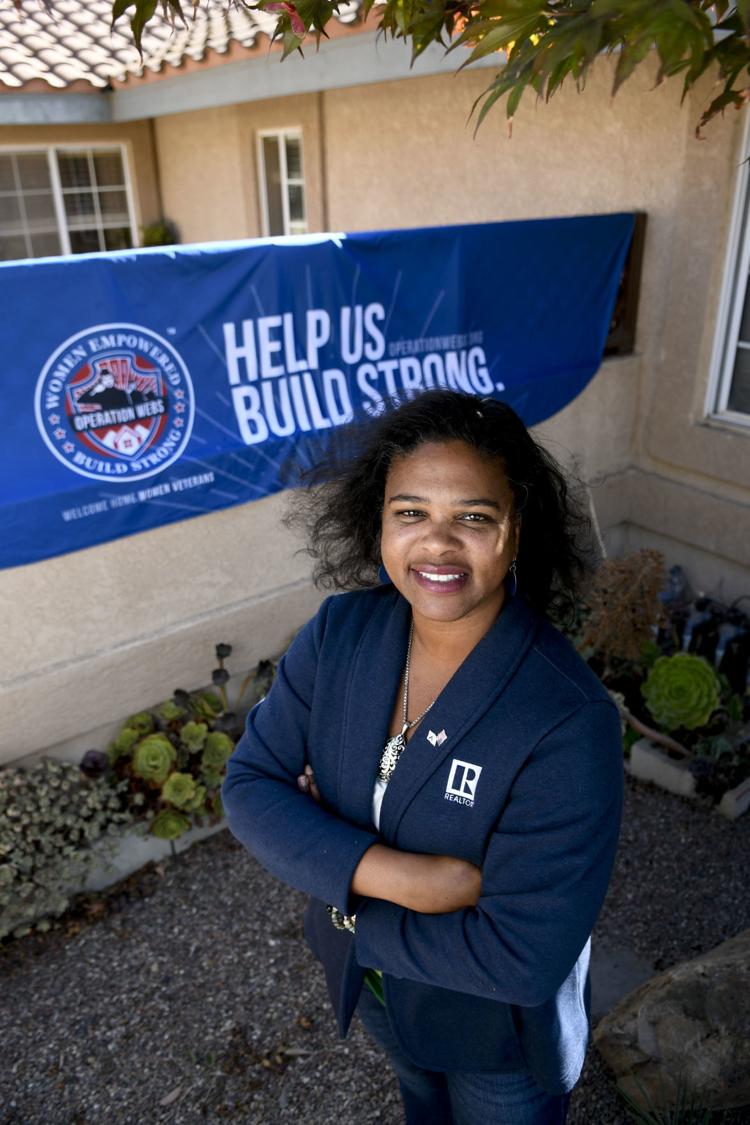 But the Air Force couldn't coordinate the start of her school with her graduation from boot camp, so Blair chose to be a dental technician instead.
Blair, who is a woman of color, said she never experienced racism until she arrived in Great Falls. After getting married, Blair and her husband looked for an apartment in town but nobody would rent to her. She was 19 years old at the time and clandestinely living on base as a newlywed.
The off-base culture was nothing she had experienced before, she said, adding she never felt like race was an issue in the Air Force.
"I just said I will go anywhere in the world," Blair said. "I will go anywhere and do anything, just get me out of here."
Her transition to Ramstein was a welcome change. She was there four years and moved quickly through the ranks. Blair received a recommendation to attend dental hygienist school back in Texas, a school she said was normally reserved for E-5s, or staff sergeants. Blair was only a senior airman at the time, or E-4.
Blair even became a part of the airman's association with the dental group on base. While at Ramstein, she started a family and gave birth to both of her children.
"It was very encouraging to move through quickly," Blair said. "It was just a really rewarding four-year experience."
After hygienist school, Blair went to RAF Alconbury in England for four years. It was the late 1990s. There she moved into more sensitive work like facial reconstructions for accident victims, although Blair said she wasn't fazed. She moved into a leadership position after making staff sergeant.
After 9/11 Blair's duties shifted to providing base security and patrolling the perimeter in 12- to 14-hour shifts for the next two years.
Blair's experience in England was good overall, she said, although she filed for divorce during that time.
Her next duty station was at Osan Air Base in South Korea, where she became a dental office manager. Due to the proximity to North Korea, Blair said that American forces stationed near the 38th parallel were considered the "tip of the spear" and wartime scenario training was frequent.
Training included donning MOPP (or mission oriented protective posture) gear, which consisted of a gas mask and several over garments to train in the event of being exposed to toxic agents, such as poison gas or radiation.
During one training regime, Blair fainted. She woke up in a local hospital where they ran a battery of tests, she said, discovering that she was allergic to latex and experienced anaphylactic shock.
Blair said she was put on "profile," or not deployable, and was sent to Tyndall Air Force Base in Florida. Blair's life took a downhill turn when, despite serving 12 years honorably, she was denied reenlistment and forced out of the military.
Now she was a single mom with two kids and practically homeless. If it wasn't for her Air Force friend Dorothea Wynter, who also lived in Florida at the time, Blair said she would've been on the streets. She applied to jobs but received no offers. She was also denied unemployment. Feeling humiliated and lost, Blair said she got rid of all her military uniforms and paperwork.
"I'm in a leadership role and I've gone through all this training to be a good leader," Blair said. "Within months, I go from feeling accomplished to feeling worthless."
But Blair never lost her kids and never gave up. She moved back in with her parents in Atlanta for about a year.
Then Blair received welcome news. The Veterans Administration approved her benefits package, which included a 10% disability rating and an opportunity to receive vocational training. It was the Hail Mary she needed, Blair said.
She went back to school for residential construction, but the recession in 2008 dealt her another blow. Blair found herself scrambling for work once again. This time, she became a police officer for four years in DeKalb County, Georgia.
In 2013, Blair moved with her son to Santa Maria to attend school at Allan Hancock College. She enrolled too and became a Realtor in 2014.
While in Georgia, Blair developed her idea for Operation WEBS. In 2018, she received its nonprofit status from the IRS. With her nonprofit, Blair hopes to prevent other women veterans from experiencing what she went through. It's still a difficult subject for her to this day.
"I believe that finding home security is key in keeping dignity," Blair said. "That is my hope for our future that we build strong together."
Source: https://santamariatimes.com/news/local/military/vandenberg/stories-of-honor—sandy-blair-empowering-women-veterans/article_90595256-13ff-5664-a87f-312fc80555d4.html